Discussion Starter
·
#1
·
I've read the Knowledge Base & FAQ's. that was mind bending in a good way!
Thanks Stampeder for the background info and pointing me in the right direction.
I would like to post a description and photos of my antenna set up and ask for comments on what I could do to enhance reception on 2 digital channels.
Overall I am very happy with my TV reception.
I am receiving 3 digital channels perfect
CBC 4-1
SUN 20-1
OMNI1 27-1
and 2 more that pixel out and/or loose audio sometimes.
CBS 7-1
Fox 7-2 and several others that I am not interested in.
I also get 5 analog channels very good to perfect
Global 6
CTV 13
OMNI2 14
TVO 24
AChannel43 and several others that I am not interested in.
I would like to know if the reception of the 2 digital mediocre channels (7-1 & 7-2) can be improved. CBS and Fox broadcasting from Carthage Watertown USA. (TVfool report says 85 miles away)
My setup
Two 30 year old antennas that I set up 20 years ago 36 feet high on tower beside house with a Radio Shack mast mount preamplifier cat.# 15-1108. The preamp made a huge difference 20 years ago and still does for all channels.
From the preamp antenna unit to preamp power source is 40 feet.
Preamp power source to line splitter is 15 feet.
Splitter to analogue TV is 10 feet.
Splitter to the main digital LCD TV is 30 feet.
Yagi is pointing at 7-1 and 7-2 160degT
(these are the two channels that pixel out sometimes) tvfool says 166degT 85 miles away.
Bowtie is pointing 40degT
(sort of inbetween the rest of the channels I want) 29 miles away...some channels listed by tvfool as 31degT and the others are listed as being 80degT. (all good reception)
Here is the link to my tvfool report
http://www.tvfool.com/?option=com_wrapper&Itemid=29&q=id=b7c81ef5279b9c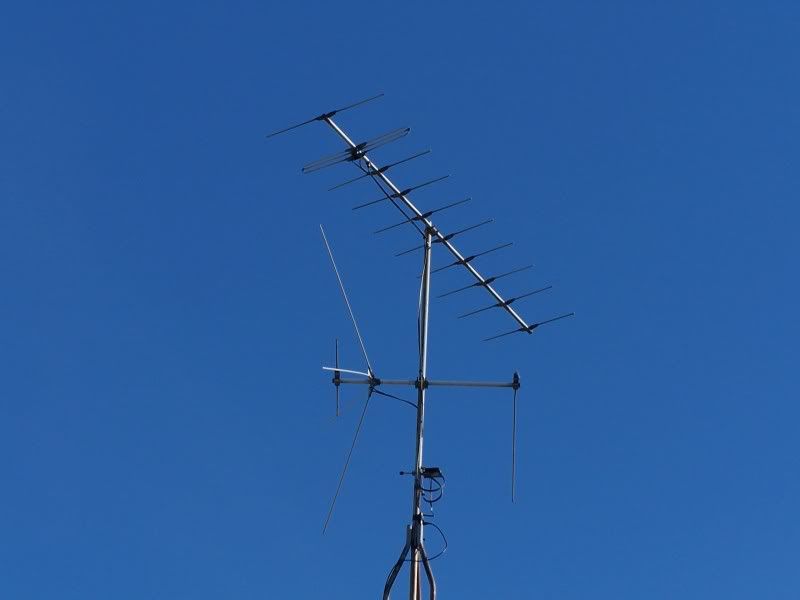 Rookie questions...
1. Which end of the wide single bowtie antenna is the front? (I pointed the bowtie toward the desired channels...is that correct?)
2. Any suggestions on how to improve reception on 7-1 and 7-2?
3. Any comments on setup and age of components?
BTW...the slight bend on one of the horizontal poles on the bowtie antenna was from the great ice storm of 1998...could have been alot worse!
Thanks,
Rudy