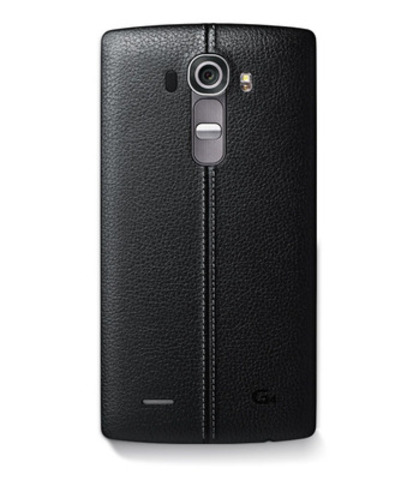 ​
The LG G4, LG's latest smartphone and the successor to the award-winning LG G3 will be coming to Canada this June.
The new LG mobile will be available in handcrafted, full grain leather and Metallic Gray through Bell, Rogers, TELUS, Videotron and WIND Mobile.
The LG G4 comes with many new features in its design, camera, display and apps.
The phone's body is defined by a subtle curvature-the Slim Arc-which runs the length of the phone and offers 20 per cent better durability than a flat smartphone in face-down drops.
The mobile holds an 8MP front-facing camera with an F1.8 aperture lens and comes with OIS 2.0, which, according to the LG website, expands the range of image stabilization.
Photos can be taken quickly with a camera startup time of six-tenths of a second.
For control, the G4 offers Manual Mode, giving photographers the ability to control the focus, shutter speed, ISO, exposure compensation and white balance.
The phone also improves on colour accuracy, offering a display that comes with Color Spectrum Sensor. CSS reads the RGB values of the ambient light in a scene, as well as the infrared light reflected from objects.
As for apps, in addition to many others, the LG G4 comes with Google Office pre-installed. As a bonus, G4 owners will receive an additional 100GB of Google Drive storage free for two years.
Owners of Volkswagen vehicles will be able to view a car-friendly version of the G4 interface on the in-dash display for integration with contacts, navigation and music with MirrorLink,
The LG G4 comes equipped with a high-capacity 3,000mAh removable battery.
Other features include:
-Memories feature which automatically organizes photos and videos into event albums based on the time and place they were taken, without having to upload to the cloud
-Event Pocket, a feature which allows users to create one, unified calendar by dragging and dropping appointments and activities from multiple calendars and social media sites and
-Smart Notice, which provides personalized notifications for events such as weather and travel by analyzing personal habits.
LG G4 Smartphone Specifications:
Chipset: Qualcomm Snapdragon™ 808 Processor
Display: 5.5-inch Quad HD IPS Quantum Display (2560 x 1440, 538ppi)
Memory: 32GB eMMC ROM, 3GB LPDDR3 RAM / microSD slot
Camera: Rear 16MP with F1.8 Aperture / OIS 2.0 / Front 8MP with F2.0 Aperture
Battery: 3,000mAh (removable)
Operating System: Android 5.1 Lollipop
Size: 148.9 x 76.1 x 6.3 - 9.8 mm
Weight: 155g
Network: 4G / LTE / HSPA+ 42 Mbps (3G)
Connectivity: Wi-Fi 802.11 a, b, g, n, ac / Bluetooth 4.1LE / NFC / USB 2.0
Colours: (Ceramic) Metallic Gray /
(Genuine Leather) Black
Other: Manual Mode / Gesture Interval Shot / Quick Shot