Discussion Starter
·
#1
·
Well, so far it's not a success story. Far from it I'd say.
I need help. How to make a proper 1/4 wave transformer?
I have been reading all along the best way to combine antennas is simply not using a combiner /splitter. From what I understand, you're lucky to get anything out of combining the two antennas if you use a splitter to combine them. Well, to me that's working better than my attempts at 1/4 wave transformers.
So as far as I understand, the most common now it's things are in order to combine 2 antennas for gain, you must have several important features present.
#1. The antennas must be exactly the same, from the same manufacturer, part number. Essentially the same production. Mine are 2 91XG's but were purchased 3 years apart. They do have some differences. After several balun, cable and reflector swaps, I said screw it and ordered 2 new 91 XG's to be delivered today. Test them today also.
#2. The coax cables must be the exact same length, the same kind for example : RG6 dual shield Etc... and should be the same manufacturer and part number. Might as well take it off the same spool. Mine are the same to a 1/8" and the same cable.
#3. Both antennas must be mounted at the same height but can be stacked over each other with the proper distance or side by side, where the separation isn't a big deal. Mine are side by side Booms are separated 50"
#4. Both antennas need to be aimed at exactly the same target in order to make the gain. Mine are.
#5. There's no point combining antennas for gain if you are going to have a lot of loss in the system. Combiners/splitters eat signal. So, this is where the quarter wave 50 ohm "matching" (stub) section comes in handy. OK, this is my problem.
So here's my saga. Get a beer, maybe some popcorn relax and read on.
I want a virtually lossless array. So, I did my research, talked to a few people on some other forums and found out that either RG 8 or RG58 can be used to create these "matching transformer" sections. As long as it's 50 ohm. A friend of mine just happened to have a roll of foam filled RG8 and has donated several lengths of RG8 that I thought I would never need. Honestly, for my new arrays, one VHF pair and one UHF pair I figured that would be enough. However it didn't turn out that way.
I had first read that quarter wave matching section for UHF made from RG 8 should be 10 inches. Including connectors. Okay. No problem, I butchered a combiner, got the cover off tore all the guts out and ran my two equal antenna leads into the sides stripped the RG 8 and somehow got it to slip into a RG 11 coax connector. (I drilled it). I then used some solder to join the three together inside the combiner. It was my first time so it took me sometime, but it seemingly turned out fine.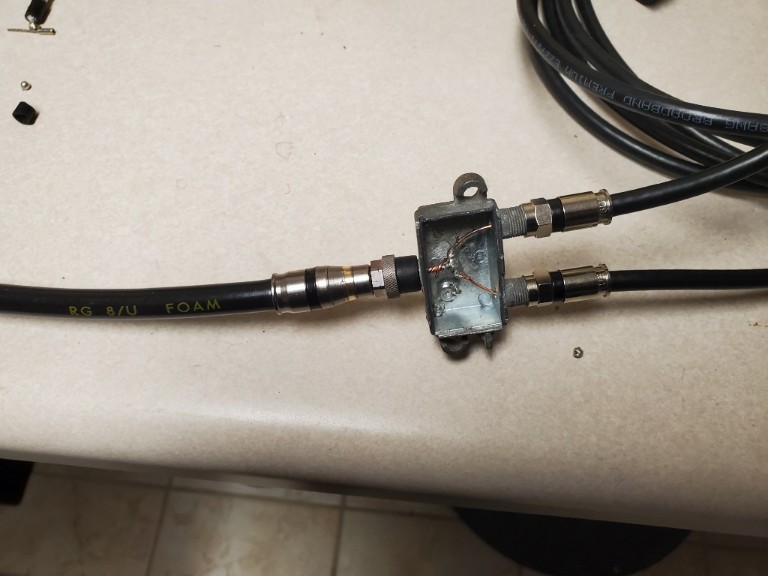 So, I climb the 22 foot ladder. I install my new piece, I'm excited! I carefully measure the spacing and aim my 91XG's. There are no leaves on the trees yet. I check all my connections, climb down the ladder and run a scan. What? How can this be. I run the scan again, I climb back up the ladder I take everything back apart I retighten. Nope.
I find out later that I made my matching section too short. 10" is wrong for foam filled RG 8. That's for polyethylene filled RG 8. I didn't know there was two kinds. By doing the calculations, my trusted friend Rabbit figures out for me that it should be 12" because the velocity Factor is different. Foam filled is slightly "faster" then the other. No problem, if that's all I need to do I'll make another section. This time I decided not to play around with combiner boxes I figured out a way to make an RG8 cable work, look and install just like a piece of RG 11. I use a "T" connector.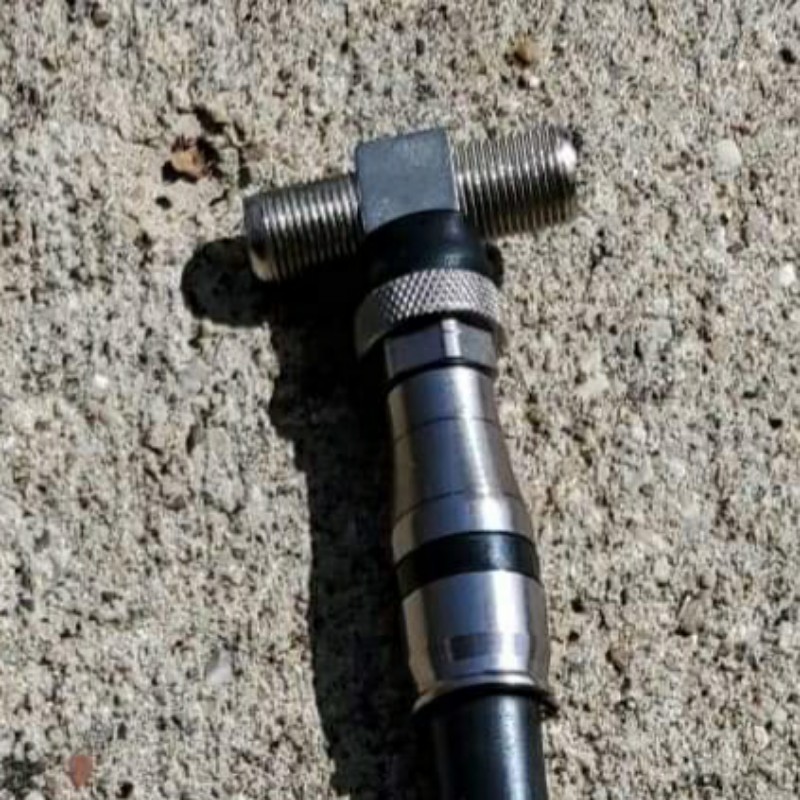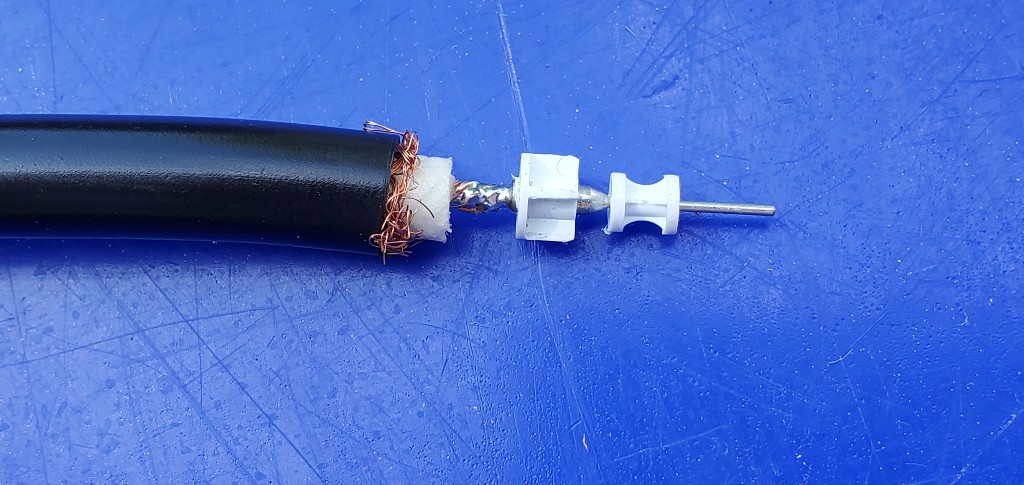 I make my 12" RG 8 matching section. Back up the ladder, I need the exercise anyhow. I attach it run down in my basement and run my scans. Another disaster. I recheck all my connections, I'm back up the ladder several times trying to find out what the problem is. This just isn't working.
Okay, brain fart. Guess what I forgot? I forgot to tell the guys it was UHF that I would be combining when I got the measurements? I assumed the matching section would be the same.. Originally, the measurements I got were for a VHF matching section. However, combining my VHFs didn't go so smoothly either. Another story. Maybe that'll be another post for another day. Or I'll incorporated into this thread.
Since I didn't know the matching sections would be different between UHF and VHF, my mistake and because I had done the exact same thing with my VHF a few weeks earlier with no success and I had several different lengths of matching sections between 9 and 1/2 in + 13 and 1/2 in. None of it worked.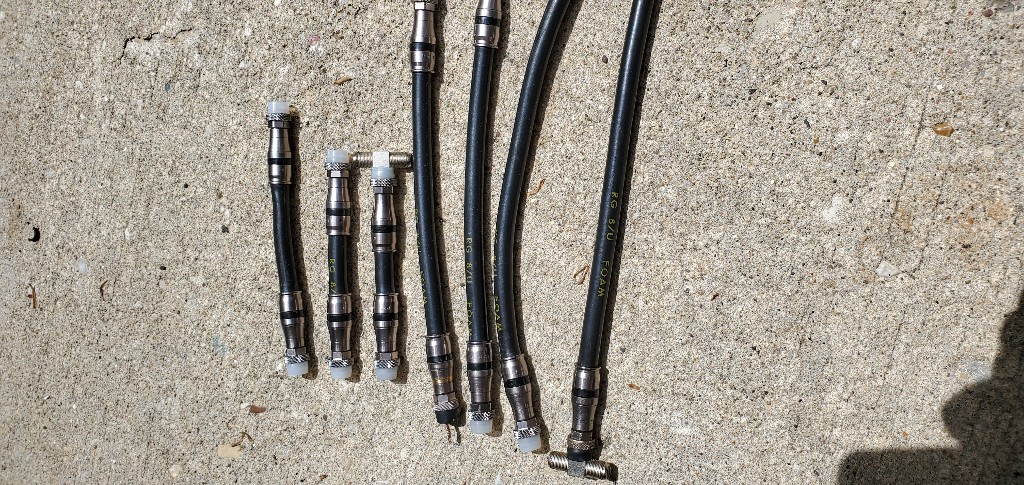 So, I find out that for UHF, its 3 and 1/2 inch RG 8 matching section if it's polyethylene insulated but it's 4.6" if it's foam filled. I'm thinking to myself, no wonder I had such poor results! My matching sections were three times longer than they needed to be!
I make a new matching section stub. Doesn't work, so I make another a little longer.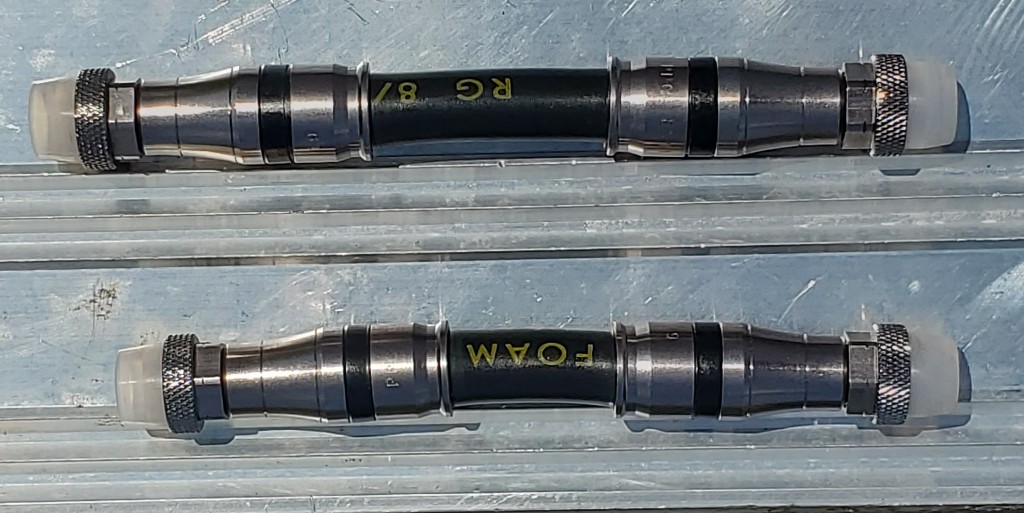 I climb the ladder, I'm pumped! I take the 12" matching section off of my Kitz KT200 amp. By the way, I don't know if you've ever taken a coax out of a Kitz Tech amp but it's not easy with your fingertips. Especially RG 11. It's an awesome designed Pre-amp but it takes some time to master reaching inside of it and starting the RG11 cable connectors especially when these are the Belden Aqua Tights. I've literally done this 50 times in the last 2 weeks with different testing I'm still not good at it. And you think I would have bent the 7/16" wrench by now.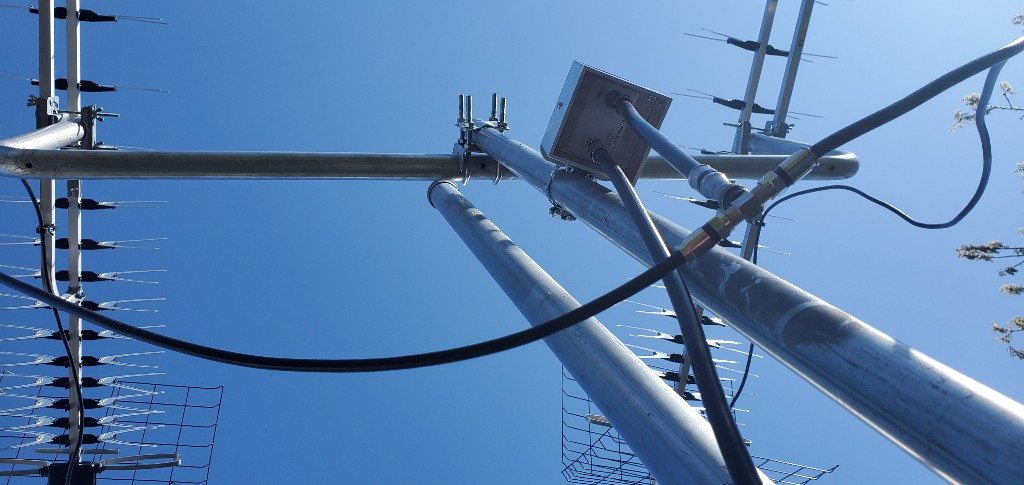 Okay, where was I? Oh yeah, I put my freshly made 4.75" matching section in, checked all my connections twice, ran down in my basement and ran the scans again. Disaster strikes again.
After several private messages to different friends, it was suggested that maybe, just maybe I'm not getting the shielding into the connector correctly, yes I have been trimming shielding back because the connector goes deep under the skin of the RG 8 anyhow where I'm sure the connector makes contact with the shielding. No problem so here it is Memorial Day. Since it started out raining this morning I decided I would make one more attempt at making a 4.66" matching section.
I mentioned this before, but even before I made my first matching section I was told to include the length of the connectors. However it was never fully understood that I was adapting an RG 11 connector to the RG8. You know, inside the RG11 connectors there's someone in pain that forms the actual contact whatever you're screwing the cable onto. So I figured I would outsmart myself and make this one longer. Because really, isn't it the function of RG8 length that matters?
So this time, I decided to make the cable itself 4 and 1/2 inches long and then solder on the contact tips from the RG11 connectors. Now, the overall length is 6.5" .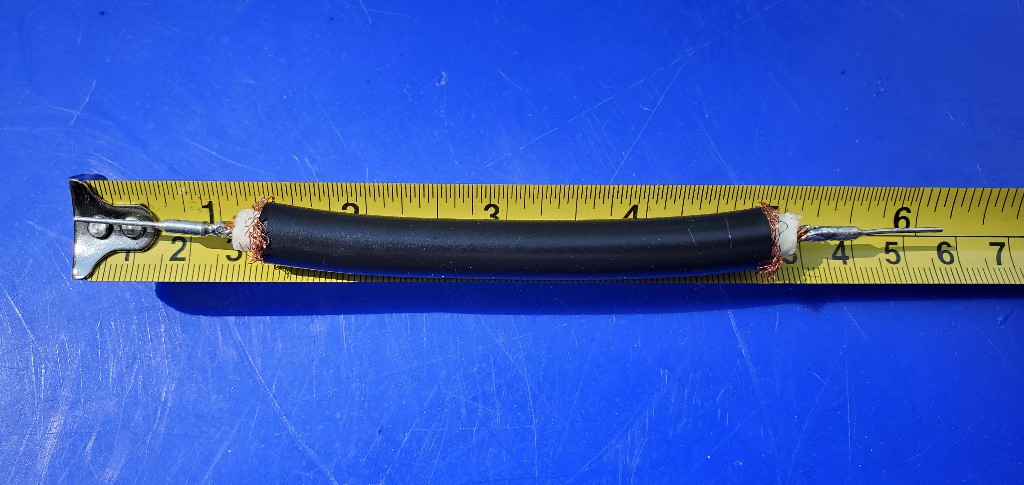 However, this didn't work either. I'm at a loss.. Could it be the "T" connectors? I've used several new ones. This was one I'd made up for the VHF, it's 12":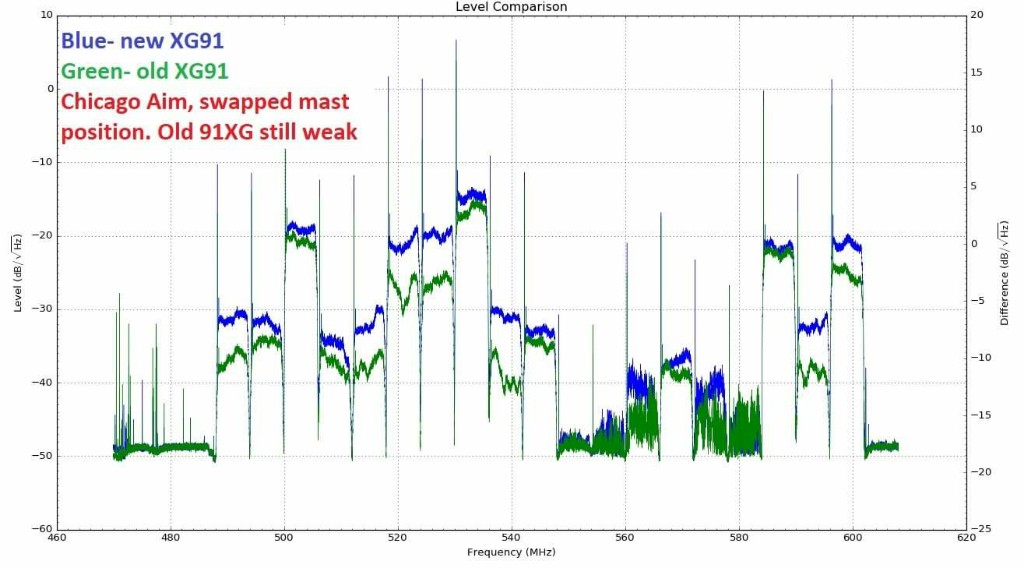 It's not the cables and although antennas aren't really balanced, noted during previous testing a simple Holland GHS Pro splitter outperforms any type of matching wave section I have conjured up.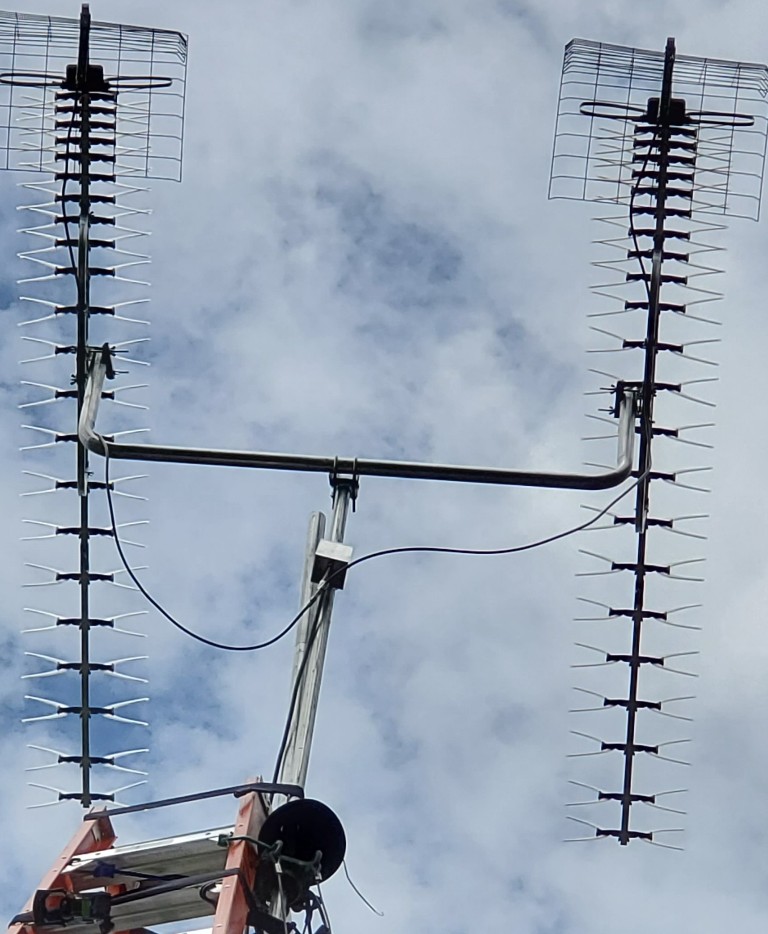 I'll retest today, I'll try and match the 2 new 91XGs to each other. If that's a go I will combine them.