Rookie
Join Date: Oct 2012
Posts: 8
Upgraded from Classic TV to Ultimate TV and now my internet has issues
---
Hi,
Hoping someone might be able to point me to the answer, or point me to how I can get MTS to fix the issue.
On Monday of this week, MTS was here upgrading my 2 TV's from Classic TV to Ultimate TV. While doing this, they also installed a new RG for my internet (required for ultimate TV). Upon a quick test after he had installed everything and was done, everything appeared ok.
However, when I went to watch a TV episode from watch.ctv.ca, it buffered about every 30 seconds to 2 minutes. I then tried globaltv.com and it was buffering lots too (but not quite as bad as ctv). I tried cbc.ca/video and it did the same thing. I tried youtube and youtube played fine.
So I called MTS and explained the problem. The first level tech apparently did made some "encryption upgrade" and reset my box, but that didn't fix anything and he sent me to 2nd level support. That guy then proceeded to tell me that the problem was out on the internet because it was doing the same thing to him on both his MTS computer and another computer that's not on MTS internet. I didn't believe him, but wasn't getting anywhere so I said I would try again tomorrow and call back if the problem persists..
Here is what i'm seeing. While watching a video clip from watch.tsn.ca, here is what it looks like while playing from my browser: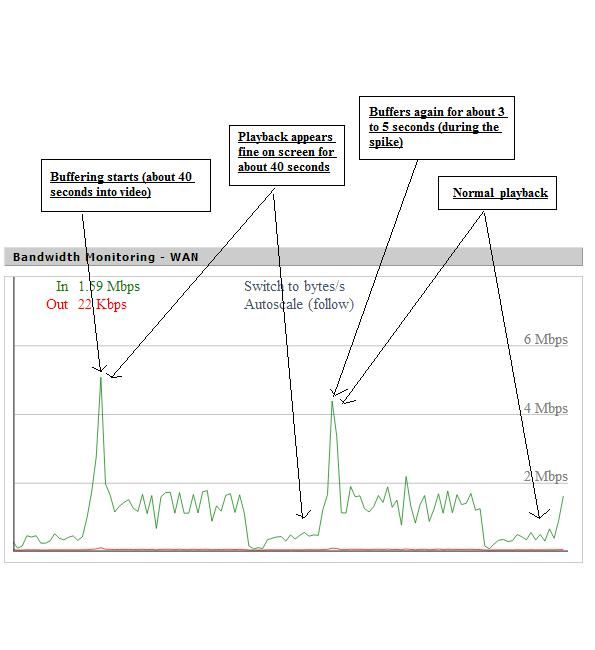 Here is the same clip, downloaded with rtmpdump: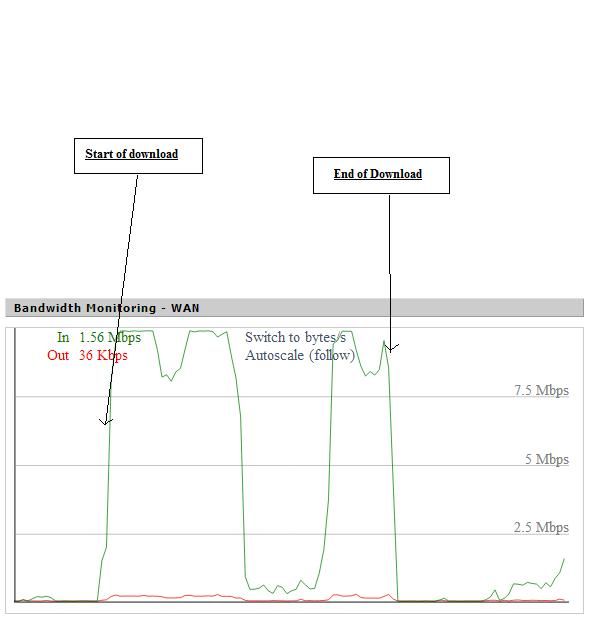 Here is a download of a 1.5gig torrent: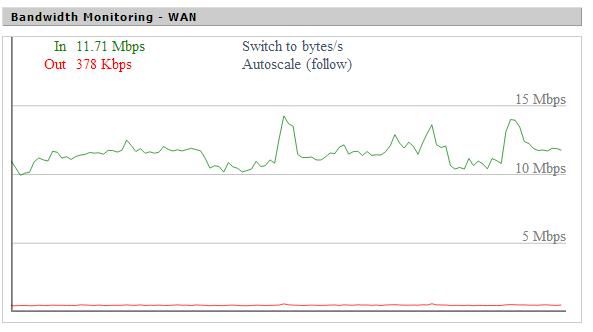 Here is a youtube clip playing:
So, for some reason when I try to watch an RTMP video it goes along fine, and then slows down until the buffer runs out, then the speed spikes and it plays again for a while (30 seconds to a couple minutes). When downloading the same video using rtmpdump, it downloads at almost 10 Mbps and then all of a sudden drops to less than 1 Mbps, then picks back up to 10 again.
When I download a torrent, it downloads above 10Mbit for the entire download.
The Youtube graph looks very similar to the TSN clip, but youtube does play just fine for some reason.
I didn't have this problem until I was upgraded to ultimate tv. My household regularly watches globaltv.com, watch.ctv.ca, and cbc.ca/video (daily for almost a year). We watch way more TV by streaming it over the internet then we watch it live, so I know we didn't have this problem until we upgraded to ultimate TV.
I tried hooking up just 1 PC by ethernet, and disabling wireless and I still have the above problem. I've unplugged the box for an hour, and even tried different cables. I'm at a loss as to what to try next.
Any idea what the heck the problem might be? What should I ask mts to check or do?
Rookie
Join Date: Oct 2012
Posts: 8
I hope it's ok to reply to my own message..
I have called MTS twice now about this issue, got a different 2nd level support person this time who had me run speed test from speedtest.net and said that a I'm getting the speed i'm supposed to get so there is nothing more he can do.
I was thinking about this last night and thought of something. I thought I would test a download from microsoft.com (because when I download from microsoft.com at work, the speed is always ridiculously fast (sometimes over 2MB/s)). So I did and it was going very quick for about 40 seconds, but then it started to slow down. Then it would speed up a little, then slow down, then speed up. So I decided to watch my router and see the traffic. It looks exactly the same if I download the rtmp. So it's not just the rtmp traffic, it's everything.
Here is what my download from microsoft looked like in case anyone is curious:
So, I'm pretty sure that if the speed test was 2 minutes long that it would show the same thing. I wonder if there is another speed test that is longer that I could use as proof to them.
Moderator
Join Date: Aug 2005
Location: Winnipeg, MB
Posts: 15,552
You could try testmy.net and select one of the larger tests, but it doesn't seem very accurate. It only gave me 3 Mbps on a 10 Mbps Shaw connection, but the speed was fairly steady.
There are some test files at
ftp://ftp.mts.net
. The 60 MB download should give you a good test - you'll have to measure the speed yourself. If you get a steady download speed, that would point to a problem outside MTS's local network.
It sounds like you have your own router - can you test with just MTS equipment?
Rookie
Join Date: Oct 2012
Posts: 8
Thanks for the reply Dr.Dave. I downloaded the 248MB file from
ftp://ftp.mts.net
and it downloaded at full speed for the whole download. So what the heck does that mean? The problem really is out of MTS's control? How can that be? Now i'm really confused.
If I download from microsoft.com, ftp.ca.debian.org, I always get the same result (the speed dropping to less than 1Mbps for about 5 to 10 seconds). Those were the only 2 sites I could think of that I could download a large file and expect top quality results.
Yes, I'm using an asus router running dd-wrt behind the MTS box. But I have tried plugging in just 1 pc directly to the mts box (with nothing else connected) and I see very similar results. I just have no way to make the fancy graphs without the router in the middle. But I can observe the same thing happening without the graphs. Downloading a large file from microsoft, suddenly the download slows to a crawl, then after about 5 seconds, it picks up speed again.
No idea what to think now. I have been thinking that the problem is inside my house somewhere, but after downloading at full speed from ftp.mts.net, now I don't know where the problem is..
Join Date: Feb 2009
Location: Winnipeg, MB
Posts: 757
Older thread but thought I'd put in my two cents.

I vaguely remember something about certain scenarios that will max out the processor on the 2Wire gateway. I believe it was torrents and/or tunneling(?)

We were shown what settings to change to eliminate this issue. I believe it was only a problem with the 3800's and not the 3801's.

Which one do you have? 3800's are silver and black with an oval shape, 3801's just black and square.
---
Authorized Service Provider (Contractor) for MTS Allstream. Any views expressed are my own.
Rookie
Join Date: Jul 2010
Posts: 4
I've had similar experiences with my UTV at home on my desktop, and haven't bother to try to figure out what's going on until tonight.....

I tried to watch videos on youtube, and will buffer then stop downloading if you advance the time a few seconds, the video will continue. If you open another tab while the video is waiting to buffer the internet works fine. When trying to download ipod firmware (itunes will also stop downloading) will stop download somewhere between 40-100 MB. Torrents never have issues on the desktop

- Netbook is able to download wireless without difficulties
- Took the Netbook and used the same ethernet connection (yes wireless was turned off) no problems
- Used a USB wireless adapter on my desktop, was able to download the ~800MB file, no problems

At this point, I am thinking it's something to do with the Realtek NIC or drivers on the desktop?