Join Date: Oct 2007
Location: North Surrey, BC
Posts: 59
No Simsub on one receiver
---
I recently moved one of my receivers (PVR) to a different outlet. After the box was moved, I've noticed that simsubbing does not consistently occur on the American HD channels on this box. My other HD receiver (non-PVR) consistently receives the simsub broadcast. I've also noticed that the PVR will switch to the Canadian broadcast about 10-15 minutes into the program. The HD receiver will switch usually during the into or within the first minute.

Something else of interest...I am on a 15 mbps profile (1HD/2SD). Before relocating the box, I could only watch/record 1 HD stream. Now I can watch 2 simultaneous streams although there are some dropouts on the PVR. Is this an indication of Telus upgrading the profiles my area?
Join Date: Oct 2010
Location: TELUS tech in the Fraser Valley, B.C.
Posts: 548
When you say you moved an STB to a different outlet do you mean you swapped it with an exsisting STB, another ethernet outlet in your home, or another coax outlet in your home?


- another TELUS tech
Moderator
Join Date: Aug 2005
Location: Winnipeg, MB
Posts: 15,819
@glparker4, the simsub situation you're describing doesn't make sense, since the simsub is done at the Telus head-end. In fact, if you have 2 boxes tuned to the same channel number, the signal is multicast to both boxes by the modem/router. If you double-check that they are on the same channel number and find you are getting different simsubs, please post your modem/router details and a full description of the connections.

You can check the the number of HD and SD streams on your PVR by pressing:
Menu, Settings, General, System Information, System Resources.
Join Date: Oct 2007
Location: North Surrey, BC
Posts: 59
---
@Wiremonkey, I moved the PVR to a different coax outlet with longer cable run from the router.

@Dr. Dave, I understand that my scenario may not make a lot of sense. I checked the number of HD streams on my PVR. It is still 1HD/2SD which is why I find it strange that I can watch two different HD streams simultaneously.

For example...last night, the PVR was tuned to America's Funniest Vidoes on KOMO-HD (with American commercials, ABC promos, and SeaTac news updates). I decided to tune to HD box to the same channel as I was walking between rooms and wanted both TVs to be in sync. The HD box tuned to CityTV even when I attempted to tune to KOMO (as expected). The programming on CityTV was about 90 seconds behind that of the KOMO feed.

Another example, after AFV, the PVR was tuned to The Simpsons on Q13 Fox HD and never flipped to the CHAN Global HD feed. The non-PVR receiver was also tuned to Q13-HD and flipped to the Global HD feed during the intro.
Join Date: Oct 2007
Location: North Surrey, BC
Posts: 59
Since nobody seems to believe me, I am posting photos to prove that my DVR does not simsub correctly. Notice the network logos in the lower right corner.
The Bachelor on KOMO-HD (ABC) which also aired on CityTV.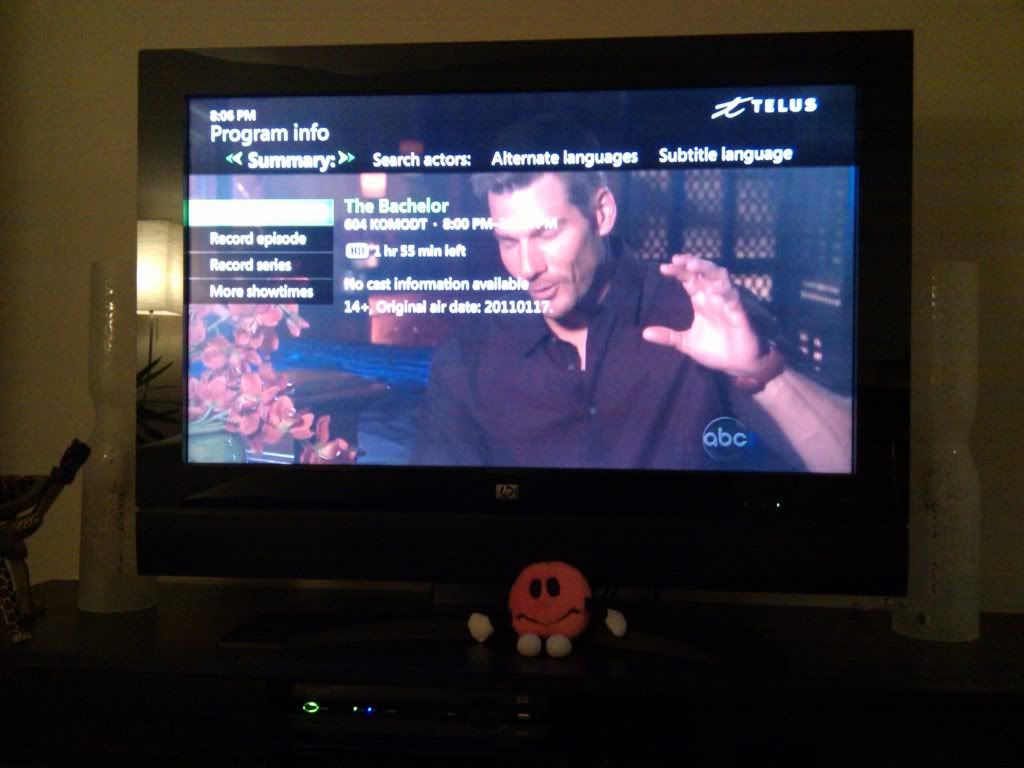 House on FOX Q13-HD which also aired on CHAN-HD tonight.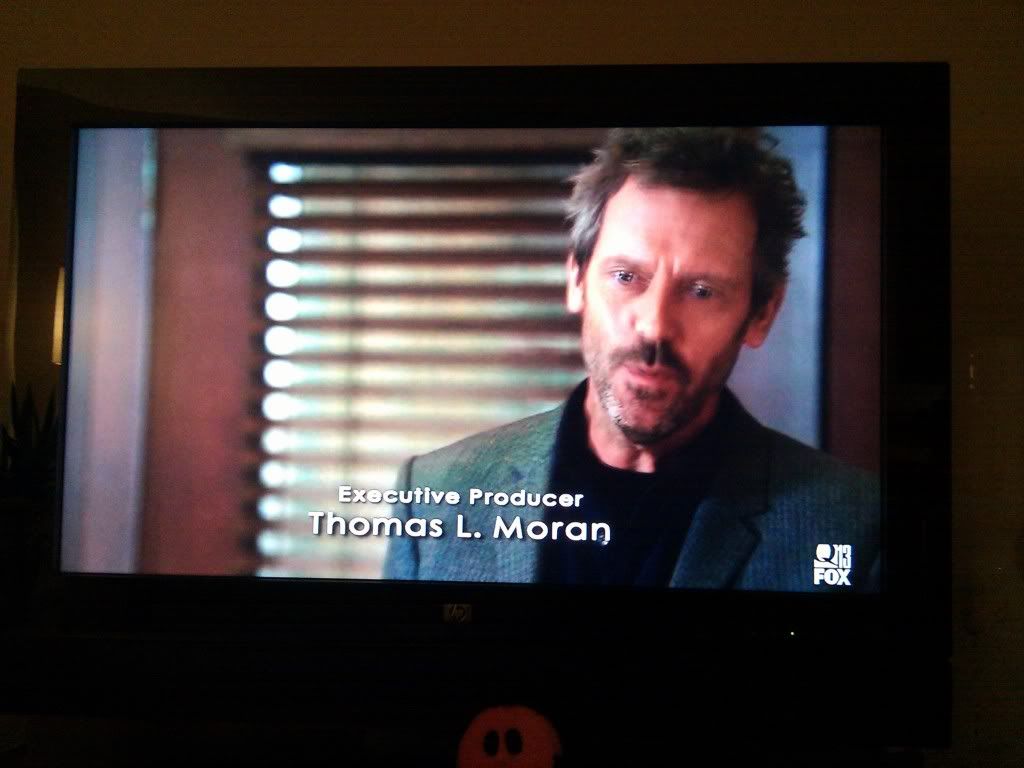 My non-PVR HD receiver simsubbed these broadcasts with their respective Canadian equivalents.
I'm not complaining about my situation. I'm just curious as to why?
Join Date: Oct 2007
Location: North Surrey, BC
Posts: 59
It seems that CBS is no longer simsubbed now. This channel has been consistently simsubbed before now. ABC and FOX were more hit and miss. Here is a screenshot of Two & A Half Men tonight on KIRO-HD.
Rookie
Join Date: Feb 2010
Location: Calgary
Posts: 4
No Simsub on one receiver
---
I believe you glparker4, because I also have been receiving the American channels which are 1000 times better then the simsub taped American channel they broadcast. Now that I am getting the pure American broadcast of the Two and a Half Men, the picture is so much clearer, and my Home Theatre Receiver broadcasts the Dolby 5.1 sound!!!!! I have always wondered why that I have had to pay for crappy tapped Canadian channels when the American feeds are so Much better.
Join Date: May 2010
Posts: 404
Looks like the simsubs have returned.
Join Date: May 2010
Posts: 404
I have noticed simsub of the Boston stations from outside of markets where the Canadian channel airing the same program is not available on Optik. This has led me to believe that Optik simply receives their signals from Bell?

WBZ(CBS) Late Show/Letterman - replaced with OMNI Toronto (CFMT) feed
WHDH(NBC) Tonight Show/Leno - replaced with A Channel Barrie (CKVR) feed

There were on the SD channels. The HD ones were not simsubbed.
Join Date: Oct 2007
Location: North Surrey, BC
Posts: 59
As of last night, the simsubs were not occurring on the PVR.

@ShawViewer - This wouldn't explain why the simsubs occur on the other receiver but not the PVR. I have seen PPV promos for Bell TV on some of the SD channels. I think those were accidents where Telus should have inserted their promos.

@Turtle6299 - I agree. The overall presentation from the American networks seems much more professional. Their production budgets are higher which allows for better promos and ads.

I am surprised that there are only two Telus customers that experienced this issue which makes this mystery more interesting.
Join Date: Oct 2007
Location: North Surrey, BC
Posts: 59
Still no simsubs...

Looks like I'll be hosting the Super Bowl party this year although I probably jinxed it by posting on this board. For the record, I try to support the Canadian networks whenever possible.