Join Date: Jul 2008
Posts: 154
Mods For Antennas Direct DB4e & DB8e (dimensions in Post #5)
---
Has anyone modeled either of these antennas? I can't seem to find anything when I search for either antenna having been modeled. Curious to see how they stack up against other 4 bay and 8 bay antennas.
DHC Supporter
Join Date: May 2010
Location: S.E. VA
Posts: 978
---
If you can not measure it, you can not improve it.
Lord Kelvin, 1883
Join Date: Jul 2008
Posts: 154
rabbit73. Yes, I've seen these. Was hoping that perhaps Hollands has something along the same lines as what I've seen on this site for numerous other antennas. Surprised that it has not been done yet.
Veteran
Join Date: Nov 2008
Location: San Diego, CA
Posts: 3,393
I have NOT seen any models for the DB-4e and DB-8e, other than the comprehensive results published by A-D on their website (I've cited links in Post #2 on numerous occasions) using a Professional Antenna Modeling program and presumably accurate Dimensions.....other than improved legibility, what more could anyone want???? I have no reason to doubt their work with results that are pretty much what I would expect, based on similar (but DIFFERENT) Antennas.

[See link at bottom of this post for all 600+ 4nec2 Analyses.]

Of course, if someone [ELSE] wants to go to the trouble of actually BUYING and MEASURING an Antenna and constructing an ACCURATE 4nec2 File, including the CURVES and 3-D features, they are free to do so.....
Join Date: Jul 2014
Posts: 71
Friend bought one.. asked him to measure it for me
01
7.5
02
8
03
3.5
Bowtie Tube Thickness
.25
Red Plastic is empty seperator?
empty
Bowtie Connecting Rod Thickness
.75
04
3.25
05
5.25
06
5.25
07
10.5
08
6.5
09
7.5
10
16
11
23 outside 21 inside 1.25 deep
12
37
13
4.5
14
28.75
OTA Forum Moderator
Join Date: Jan 2005
Posts: 24,878
Thanks for that, ZippyTheChicken! Is #14 from centre to centre, or from inside edge to inside edge (or other)?




Veteran
Join Date: Nov 2008
Location: San Diego, CA
Posts: 3,393
In Item #3, the Red Plastic can't be COMPLETELY Empty....the Whiskers must be BENT and inserted AT LEAST 3/8-in (or more), otherwise there would be no support structure for the Red Plastic. We need to know how far the Whisker extends into the Red Plastic, since the TOTAL Length of the Whisker determines performance.
Per fol. detailed photo, DB-8e is formed from FOUR 2-Bay Bowties, rather than TWO 4-Bay Bowties....so there are NO Feedline Crossovers required. The Center Feedpoint of each Upper and Lower 2-Bay is connected to Common Points inside the Circular Baluns, which are then connected to a 2-Port RF Combiner inside the Square Box attached to the (non-functional) Support Crossbars. We need to know the Dimensions of these Bent Feedlines.
See fol. Photo:
http://forums.solidsignal.com/auximages/DSCN2295.png
In another Forum, rabbit73 posted a photo of the DB-2e, showing the Bent Feedlines uncomfortably close [Q: HOW CLOSE???] to the Support Beam.....is this also "typical" of the DB-4e and hence an important feature needed to provide the requisite SWR...or was it just the DB-2e????
http://www.dtvusaforum.com/attachmen...db2e-snip2.jpg
Q: Are the Bowties perfectly FLAT, or do they have a curvature...if so, how much deviation from FLAT???
Also missing details re Reflector Screen.....
Above Photo was taken from fol. Post in Solid Signal Group Forum:
Hands on with the Antennas Direct DB8e - The Solid Signal Blog
More photos found in fol. Audioholics Article:
Antennas Direct DB8e Ultra Long Range Antenna Review | Audioholics
---
Last edited by holl_ands; 2015-11-25 at

10:02 PM

.
Rookie
Join Date: Jul 2019
Posts: 6
model db4e-db8e antenne
---
It elaborate the modelling of the antenna DB-4and and DB-8and in the program MmanaGal and the results were approximated to the two documents published in the post #2 (DB4And-TDS.Pdf – DB8And-TDS.Pdf).
With reference to the dimensions no if they are correct since the image of the post #3 no longer finds , but with the dimensions that mentions in this post but the images of reference that mentions in the post #7 was graficada the antenna.
The model in MmanaGal-Basic admits 512 elements at most by what the reflector of the antenna only graphic the horizontals, pass the model to 4nec2 in which have errors in the number of segments and the radii of the elements treat to correct them but the results that gives varied a lot in function to the number of segments.
Regarding the results (modelling in MmanaGal-Basic) of the DB-4and and DB-8and in both asemeja regarding the Gain in dBi , Azimuth , Elevation and F/B, regarding the SWR is approximated in DB-4and but in DB-8and is different according to the documents published in the post #2.
In reference to the Resistance (R) and the Reactance (jX) no ay reference to if that it is the only that does not convince me of this antenna are the results that obtained in the model that make by what if somebody can say me in that it splits of the dimension is ta badly will correct it.
DB-4e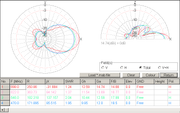 DB-8e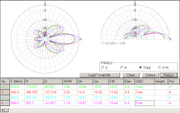 This is the archive with all the documentation of the antenna DB-4and.
DB4e_V1
This is the archive with all the documentation of the antenna DB-8and
DB8E_V1
Programs used:
LibreCAD, Open Source 2D-CAD
http://librecad.org/
MMANA-GAL basic is freeware an antenna-analyzing tool based on the moment method
http://hamsoft.ca/pages/mmana-gal/mmana-gal---home.php
4nec2 antenna modeler and optimizer by Arie Voors
http://qsl.net/4nec2/4nec2.zip
Rookie
Join Date: Jul 2019
Posts: 6
graphic dimension usage of in analyze antenna DB4e
graphic dimension usage of in analyze antenna DB8e
Veteran
Join Date: Jan 2009
Posts: 4,600
Nice work there jop. Looks like you have spent a lot of time on this.
I took your .nec models, and added a few lines to run them through nikiml's
nec_eval python scripts, and they ran flawlessly.
Thanks for all the hard work I am sure you put in to this!
---
DB8E/VHF Yagi rotor FM Bandstop ap-8700 preamp 8way split LG lcd.