Join Date: May 2009
Location: West Coast of Canada - God's Country
Posts: 659
Perseverance pays off!
---
Gents,
Perseverance pays off!
I remembered I took their 605 from the Kitchen, and plugged it into the single continuous RG6 Cable, and as their 605 worked perfectly back at the Multiswitch, there wasn't anything to be gained by trying our 605 there as well. I knew the signal was great (mostly) after the multiswitch, but dying after the ~300 feet to their receivers. So logic dictates something is wrong with the cables /connections /etc. My neighbor had a part box (a little over 550 feet) of RG6 that's been kept warm and dry in his basement workshop since the original install. So to compare it to the best cable he has connected (the single continuous RG6 Cable) in case it had degraded over time, we unspooled it, and cut a piece the same length. I put my AquaTight F connectors on each end, plugged one into the new multiswitch output, and the other to my 605 inside the Cabin. The signals did improve marginally, but I still did not get the desired channels the neighbor wants.
Even though the old Quad LNB / Phillips Multiswitch worked for years on this cable run, the combination of the new Xku LNB / Steren (or Phillips) Multiswitch just didn't have the "Oomph" to overcome the line losses. So in one last gasp I installed a Phillips SDW5005GN In Line Amplifier on the test line, just after the new Multiswitch.
Then all of the missing channels came in.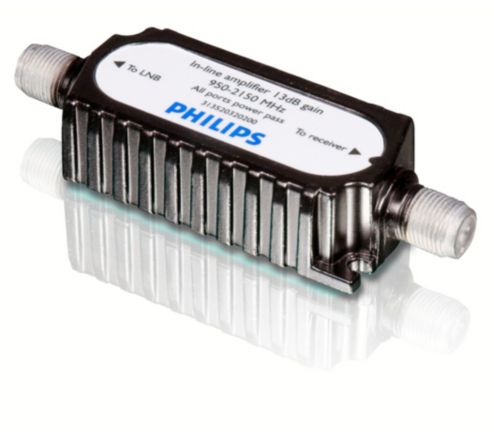 Even the notorious AMC Channel 130 /630 came in. It's signal strength was 87 and the EcbNo was 5.8. And it was the poorest of the lot. The Neighbor was amazed, and I was very relieved. I decided to connect the output of Phillips SDW5005GN to one of the Cables heading to the Neighbors house. We picked the poorest one with splices, indoor cable, and a screw on F connector - it connects to their 605 from the Kitchen. Although there was some degradation, the notorious AMC Channel still came in along with all the music channels, and everything else. The Neighbor's Wife was grinning ear to ear.
Of course now the problem is I had only one Phillips SDW5005GN with me in my bag of Cable /Sat tools and supplies. I was certain I had bought 4 (from Princess Auto) and I left 3 for the neighbor to try when we were first trying to make the system work. He swears I didn't, but looked around anyway and couldn't find them. (I think I posted about that earlier in this thread. I'll go back and check.)
So I called every store I could think of in Kamloops for an In Line Satellite Amplifier but nothing. I even checked the web but no joy with those folks either.
I had to leave and return to Vancouver. (Meetings downtown tomorrow.) I'd prefer to buy something from a retail store but we may have to go to the web. There are lots of in line amplifiers there, and on eBay.
In the meantime, the Neighbor's wife has laid claim to the one and only Phillips SDW5005GN that feeds her TV.
---
Regards,
Jim
Join Date: Feb 2010
Posts: 811
Well done Jim.
I honestly thought you had tried that little beastie before....
Here is one location;
Inline Amp RG6
Although I don't like the pricing.
Veteran
Join Date: Jun 2011
Location: 43° N, 81.2° W
Posts: 7,780
Glad to hear about the good outcome. It just makes me wonder how it worked for years beforehand.
Join Date: May 2009
Location: West Coast of Canada - God's Country
Posts: 659
Thanks Gents.
I have no idea what technically is going on after all these years of trouble free operation. I'm just glad adding 4 In Line Amplifiers seem to be a good solution. Now I need to find 3 more at a decent price. I think I paid less than $5 each seven years ago for the Phillip's units. $15 a pop does seem a bit high. I called the neighbor and advised I'd given 3 to him in October 2010. (See post below). I remember 3 because originally he was going with only 3 lines. He added the 4th some time later.
http://www.digitalhome.ca/forum/11-s...-please-8.html
He said he didn't remember that far back but would check out the spots in his house where he stashes these things. I checked Home Depot (who used to have them in Poco) and WalMart (who has them on-line) but no Joy.
---
Regards,
Jim
Join Date: Jul 2002
Location: London, Ontario
Posts: 1,249
I wondering if this is just a case of general signal strength of some of the transponders decreasing overtime. You may only be seeing this now because the gradual decrease has caught up with the limits of the long cable runs. Maybe your system config is the canary in the coal mine showing that the overall signal strength of the satellite is beginning to fade. Only those with extreme installations may see any issue. There could be a few small issues combined that are testing the limits of the install. Glad the in line amps will fix things up.

Re the price of the amps. Time is money and although they may be more expensive then you like forking out the $45 for the three may be worth just to draw a line under the situation.
---
LONSat
Veteran
Join Date: Jun 2011
Location: 43° N, 81.2° W
Posts: 7,780
An ebay search for "satellite inline amplifier" brings up some lower priced sources in Canada.
Join Date: May 2009
Location: West Coast of Canada - God's Country
Posts: 659
---
Hi Gents,
I'm sorry for the delay in my posting. I was busy, with work and then on October 20th the Renovation started. My wife's dream kitchen morphed into a whole main floor reno, which included my computer stations. We bailed and went on a Mexican Riviera Cruise before Christmas and escaped some of it. Of course the contractor, who said we'd be using it by December 20th fudged the date and will be another month.
Anyway, the neighbor got 3 in line amplifiers off a vendor on line that I found for less than $30 delivered. I had left him 3 small jumpers pre-made, and showed him how to put them in when I was last there. So he got it done and all of his units are now operating great. I just checked again with him 2 days ago and they are still smiling.
Hopefully it will be another 6 years before we have to tackle another problem on the system. Thanks for the assist.
---
Regards,
Jim
Join Date: Feb 2010
Posts: 811
Took a while Jim but you got there.....lol
Join Date: May 2009
Location: West Coast of Canada - God's Country
Posts: 659
---
Gents,
I was wrong when I said above "Hopefully it will be another 6 years before we have to tackle another problem on the system." Stuff happens I guess.
I was on a business trip in York, Pa, USA this week and my neighbor at the lake called to advise he had no TV. (Due to a lot of circumstances, I've only been at the lake for about 6 days this year, with half of them on nearby business for work. But the Sat system was working fine each time.) He explained another neighbor (Nick) who is two lots west of our cabin is rebuilding his place into a full time residence. He's been struggling to get it into lock up before the snow flies. Due to recent rain, and equipment movement (dump trucks, bobcats, etc.) the lot has turned into a sea of "Gumbo". So in an effort to drain off some of the water in the "off hours" Nick was creating a ditch on the edge of the road with his small excavator. He had called "Dig BC" and was told there was a line about 4 feet down for the sewer. He was only going down about 18 inches so he thought he'd be fine. He wasn't. He cut the plastic conduit and all 4 Sat feeds.
The neighbor says he blames himself more than Nick because he was over there just before Nick started the ditch, and he forgot to warn him about the Sat feed, even when they were standing right on top of the feed.
Anyway, I asked the neighbor if he turned off the power to the multiswitch (he forgot...) but said he'd do it right away. I hope it's not damaged. The neighbor is going to temporarily fix the broken cables with screw on fittings he bought locally with some butt connectors / possibly small jumpers. He wants me to come up and assist and install AquaTight F connectors and help patch in new conduit. I explained we might end up having to replace all 4 cable runs (they are 8 years old
-OMG! and groundwater is puddling in the conduit). That sounds like a big job with winter coming on quickly. They had a "skiff" of snow recently (nothing like the 40 cm Calgary got this week!) but enough to forward everyone what's just down the road.
Have any of you ever had to patch long runs successfully like this? Or have you had failures?
Thanks for the assist.
---
Regards,
Jim
Join Date: Mar 2005
Location: Delta BC
Posts: 238
Hey Jim...I have had good success using the self amalgamating or rubber bonding tape. ( Home Depot, Gough, Eecol, etc). A layer of this seals the connectorized splice and is then overwrapped with a good quality ( ie: 3M) electrical tape .
If water has ingressed into the cut cable, as you have noted, you will have to cut it back and install a jumper with appropriate connectors and splices.
Afraid I can't help with the weather though.....all the best there.
Join Date: May 2009
Location: West Coast of Canada - God's Country
Posts: 659
Hi Skifan,

My brother & I drove up on Sunday morning and worked with the neighbor to dig the trench down about another foot, and patched the conduit. We had left enough slack in the cables we could cut out the damaged area, which was quite small, and still drop it to the new depth. It wasn't quite the 2 1/2 feet Nick had requested but it was hard pan and rocky (very tough digging). I used my AquaTight connectors and a self vulcanising tape on top of that before placing it in conduit.

The cables were just long enough to do this as I really didn't want to splice in a patch with the extra losses that would ensue. We got lucky with the weather as it didn't rain until just after we finished up on Monday. The neighbour got to use Nick's Bobcat to fill in the upper part of the trench. (The bucket on the Bobcat was too wide to dig the trench.) We backfilled the lower part of the trench by hand and compacted it as best we could.

I called the neighbor today and he said it rained quite a bit after we left and he put more fill on top as it packed down a bit. I check all the channels (as did the neighbor later) are we are good to go.

I certainly hope it lasts another 8 years. But you never know...
---
Regards,
Jim
Join Date: Dec 2004
Location: Muskoka, Ontario
Posts: 841
Join Date: Mar 2005
Location: Delta BC
Posts: 238
I agree Jim.....Let's hope the next chapter of this epic adventure does not get written for another 8 years.