Rookie
Join Date: Jan 2017
Posts: 7
4-Bay vs 8-Bay Bowtie
---
Haven't been on these forums for awhile and had to make a new account ...new email, forgot password etc ...LoL
So according to the recommended Antenna Chart it looks like the 4-bay bowtie DB4e/CM4221HD performs better than the 8-bay DB8e/CM4228HD across the board.

So why do they have a 8-bay bowtie if this is the case?
Join Date: Nov 2009
Posts: 516
Quote:
So why do they have a 8-bay bowtie if this is the case?
Probably because they (the antenna makers) don't take their business' queues from internet forums. There's an application for each model. Unfortunately, too many people choose wrongly because they don't understand the differences and trade-offs between the variations and then they blame the antenna. Amazon reviews for antennas makes this really plain. Some of them really make me laugh.
It's been a while since stampeder has updated the list. It has some antennas listed that are no longer available like all the AntennaCraft models, the Lacrosse from Antennas Direct and a number of models from Winegard.
DHC Supporter
Join Date: May 2010
Location: S.E. VA
Posts: 774
If properly designed, an 8-bay bowtie antenna can have as much as 2.5 dB gain over a 4-bay bowtie antenna, which might help in marginal situations.
The 8-bay has a more narrow horizontal beamwidth than the 4-bay which can help to reject multipath reflections and null very strong local signals if you are trying to receive weaker signals almost on the same azimuth.
The 4-bay has slightly less gain but a wider beamwidth to receive signals from two directions that are within its beamwidth.
In the tests that I made, the original 4228 didn't perform any better than an original 4221.
The main attraction of the 8-bay is that "it's bigger, so it must be better."
The choice between the two depends upon the actual reception location.
The current "King of the Hill" in gain for 8-bay antennas is the Antennas Direct DB8e with both panels aimed in the same direction.
https://www.antennasdirect.com/cmss_files/attachmentlibrary/Technical%20Data%20PDF's/DB8E-TDS.pdf
---
If you can not measure it, you can not improve it.
Lord Kelvin, 1883
Veteran
Join Date: Nov 2008
Location: San Diego, CA
Posts: 3,176
Clearly you are mis-interpreting Stampeder's Chart of Recommended Antennas....he makes no attempt to COMPARE "Medium Gain" 4-Bays to "High Gain" 8-Bays and merely lists them under each Gain category. Clearly 8-Bay's have higher Gain than 4-Bays (although narrower Beamwidth may not be "better"):
OTA Antenna Chart/Tableau des Meilleures Antennes OTA - 17/05/2014
Note that (only the ) DB-8e uses an RF Combiner, whose 0.5 to 1.5+ dB Loss must be subtracted from the fol. Comparison Chart: [Is anyone tired of seeing the same Charts again and again and again....I know I am....so here are some 2-Bay Comparisons, showing which are High Gain and OTOH which are Wide Bandwidth.]
http://imageevent.com/holl_ands/loops/compareloops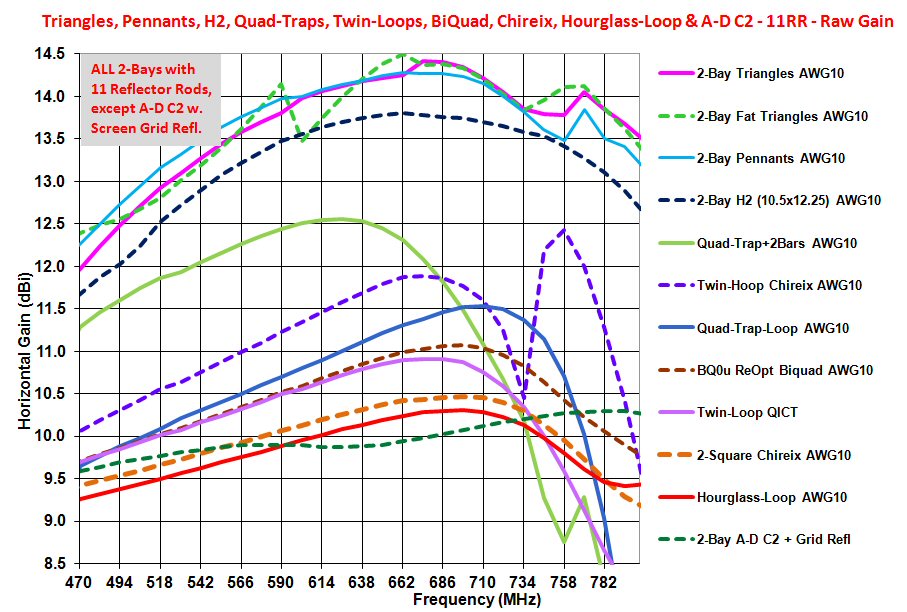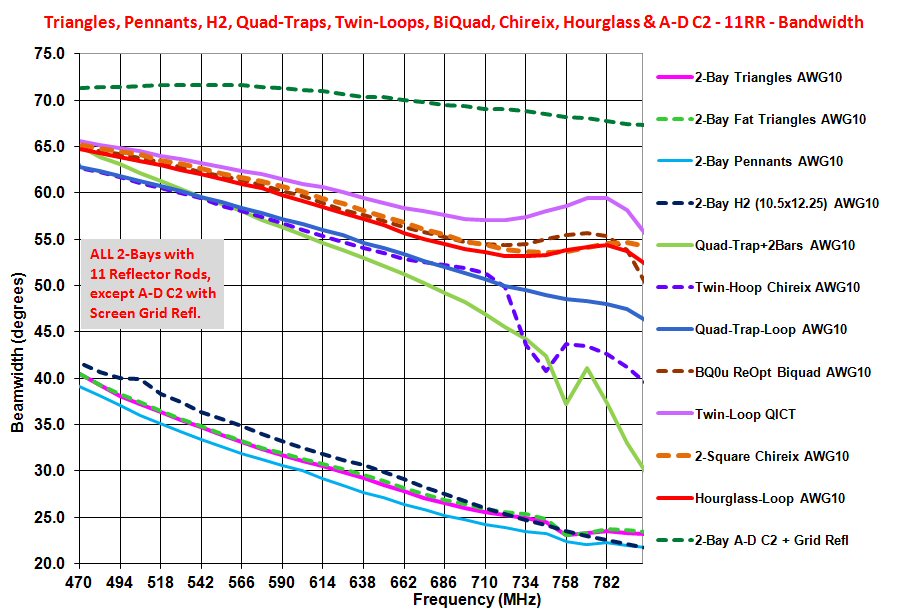 ---
Last edited by holl_ands; 2017-02-02 at

06:35 AM

.
Join Date: May 2011
Location: Vimont, Laval, Qc.
Posts: 1,102
Quote:
The current "King of the Hill" in gain for 8-bay antennas is the Antennas Direct DB8e
Sorry, but I don't agree, the CM4228HD is as good and almost half the price . . .
Have you ever assemble a DB8e? It takes as long as mounting everything else !
.
Veteran
Join Date: Nov 2008
Location: San Diego, CA
Posts: 3,176
AGREED.....CM4228HD is the better choice for High Gain in UHF Band....and is much less expensive than DB-8e....

PS: Today I'll be processing and "soonish" posting an Improved HHH Mod that turns CM4228HD into a COMBO Hi-VHF/UHF Antenna with High Gain and Low SWR ALSO in Hi-VHF Band....the HOLY GRAIN of Multi-Bay Antennas...and it's ATTIC FRIENDLY...even with a ROTATOR.
So...WIN...WIN...WIN...WIN...WIN...
Rookie
Join Date: Jan 2017
Posts: 7
Good to know there is still some love for the CM4228HD which is like ranked #6 in the chart ...LoL
Back in 2009 it was the king of the hill sort to speak !
Join Date: Dec 2008
Location: Mississauga
Posts: 812
I would think that the 4228 would outperform the 4221. After all 8 bays ( more active elements ) versus 4 bays is a larger capture area which means more signal delivered to the receiver. If that was not the case then we all would be quite happy with a set of rabbit ears!
---
FTA, Openbox S9, 33" dish, Avenger PLL LNBF. Stab 90HH.
OTA, CM4221HD, 3410 amp, 4 way split, HW-150 PVR