Veteran
Join Date: Nov 2008
Location: San Diego, CA
Posts: 3,158
YUP, your Engineer is realizing that it only possible to slightly attenuate the CELLPHONE to TOWER signals on 704-716 MHz, cuz they're too close to Ch51 top band-edge (698 MHz), which should NOT be attenuated more than say 1 dB. The BEST that can be done with an LTE Filter is to get rid of the TOWER Broadcast signals on 734-746 MHz (and another higher band) in North America:
Severe OTA Interference From New Digital Services Tower
Max Output Level: 118 dBuV
Need to ALSO specify TEST CONDITIONS, such as either per DIN45004 (A or B or C?) Test Procedures or whatever alternative test is used. Typically the reported OUTPUT voltage value is for either TWO EQUAL Strong Signals [or one x dB stronger than the other] while adjusting the input level so that the 3rd Order Intermod Frequency (for example 2F1-F2) is y dB [46 dB or 60 dB are typically used] below the Strongest Output Signal.
Join Date: Apr 2016
Posts: 63
Veteran
Join Date: Nov 2008
Location: San Diego, CA
Posts: 3,158
I've seen numerous TVFool Reports [perhaps 1 in 5] where $28 Clear TV Key's Vertical Monopole Antenna mounted directly to DTV's Coax Connector would pick up STRONG, LOCAL Stations....some only need an "UNFOLDED PAPER CLIP ANTENNA"...which might even be BETTER than the Clear TV Key, as discussed below:
Watch broadcast TV FREE with Clear TV Key HD Digital Antenna | Clear TV? Key
BUT:
1) Although Clear TV Key Antenna may pick up Stations with either Circular [Vertical = Horizontal Power] or Elliptical Polarization [typically LESS Power in Vertical Component], it is VERTICALLY Polarized, while MOST DTV Stations [out of 1797 in RabbitEars Database] are ONLY Horizontally Polarized and will probably NOT be received unless significant De-Polarization occurs during SOME Reflections [unlikely in most cases]:
RabbitEars.Info
[List of 159 Circularly Polarized DTV Stations]
RabbitEars.Info
[List of 374 Elliptically Polarized DTV Stations]
2) It only provides 0 dBi Gain on SOME UHF Channels which is insufficient to pick up even moderate Range Stations,
3) With much less Gain and Excessive SWR on VHF Channels,
4) It's HIDDEN behind all of that conductive Metal in the DTV which acts as a Reflector, blocking signals from a very wide Angle [more than 180-deg]...although it provides some Gain Enhancement for Stations located on the Backside of the DTV.
==========================================================
Even an Inexpensive 1-Bay Bowtie would make a MUCH better UHF and even Hi-VHF Antenna for Strong, Local Station Reception of HORIZONTALLY Polarized Signals......although I know of several BETTER Bi-Directional [for signals from nearly ALL Directions] Indoor Antennas [incl. UHF-Loop + VHF-Rabbit-Ears]:
UHF Bowties - NO Reflector
https://www.summitsource.com/Steren-...10-P10577.aspx
Product Reviews Archives - HDTVexpert
http://www.hdtvexpert.com/useful-gad...-dtv-antennas/
http://www.hdtvexpert.com/antennas-a...on-of-them-all
More INDOOR Antenna Comparison Tests are found here:
http://www.avsforum.com/forum/25-hdt...na-signal.html
---
Last edited by holl_ands; 2017-02-20 at

01:59 PM

.
Rookie
Join Date: Jun 2016
Posts: 12
i ordered yesterday several antennas from 123ink , are they good?

i ordered several items from homevision in 2013, just junk, the antenna motor died within a few days and FTA box wouldnt work and they didnt provide support. just rude Asian reps
Join Date: Nov 2009
Posts: 515
Quote:
i ordered yesterday several antennas from 123ink
Never heard of them. Probably cheap imported junk that came from the same place as your previous purchases.
Join Date: Jan 2017
Posts: 32
Clear TV Key
---
I keep seeing ads for this product a lot lately: Clear TV Key...
Clear TV Key
But the reviews online are horrible, as expected. A small antenna with who knows what materials used for construction. Plus when they advertise, they don't mention that you need to be (very) near a TV transmitter, and barely state via text that non-OTA channels aren't available. I wonder how many people get duped into buying this product, as it is relatively cheap, and promises to eliminate your high cable / satellite bills.
Join Date: Dec 2008
Location: Mississauga
Posts: 791
123ink primarily sell printer ink cartridges and refills. Didn't know that they were in the OTA business as well?
---
FTA, Openbox S9, 33" dish, Avenger PLL LNBF. Stab 90HH.
OTA, CM4221HD, 3410 amp, 4 way split, HW-150 PVR
Join Date: Dec 2008
Location: Fort Erie, ON
Posts: 870
@
Westcoasting
:
I bought one of these for a secondary TV at a flea market for under $10.
Does the same job a paperclip use to do on the same TV - gets all the local strong channels in my area - nothing else.
If you live in a city and just want the high-power stations in that city, it will work for your needs. So will a paper clip and coat hangar.
Rookie
Join Date: Oct 2011
Posts: 29
ViewTV - any good?
---
Since 2011 I have a modded CM-4221HD in the attic. Generally satisfied but could be better to get Burlington from Laval (QC).
I was contemplating a rotator as the reception changes drastically with small angle variations. I came across this compact "150" miles antenna which comes with a rotator. Compact is an important criteria because no larger antenna can fit there, compared to my CM-4221HD
https://www.amazon.com/ViewTV-Outdoo...=antenna&psc=1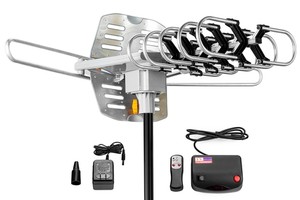 4/5 from 2700 Amazon users, it is dirty cheap although I don't mind paying more to get what I want.... any experience here?
P.S. I know about the best antennas chart.
Join Date: Nov 2009
Posts: 515
Cheap Chinese crap antenna. They've been around on Amazon and ebay for years with extravagant mileage claims. They usually break in short order if left outside. I drive past one every day that acts like a lopsided weather vane - you can tell what direction the wind is blowing just by looking at the antenna.
Veteran
Join Date: Jun 2011
Location: 43° N, 81.2° W
Posts: 6,429
Rookie
Join Date: Oct 2011
Posts: 29
Oh I see, I'll pass. I should have known; 150 miles for this size is too good to be true anyway.
Veteran
Join Date: Jun 2011
Location: 43° N, 81.2° W
Posts: 6,429
Tropo events aside, reliable reception over 100 miles is uncommon even with the best antenna. It's typically much less, especially near heavily populated urban regions. Living on top of a hill in a mostly rural region may make it possible. Living in an area with very flat land or large bodies of water also helps.