Rookie
Join Date: Mar 2009
Location: San Jose, CA
Posts: 10
Best for me to buiild: Bow-Tie vs Gray Hoverman?
---
Is one better over the other? Advantages, disadvantageous. Has anyone run any test?
Join Date: Feb 2009
Location: Upstate NY
Posts: 180
Yes, plenty of us have run tests here...

As to which is better, that depends on your personal situation with respect to what channels you're trying to get. The bow-ties tend to have a wider beam-width, and are easier to aim, but certain commercial versions (I'm looking at you, antennas-direct db4) do not have consistent gain over the full UHF spectrum.

The Gray Hoverman antennas that 300ohm, j3d, and others here have developed are great for, depending on the model, a flat gain curve over the 2009 UHF band, very low SWR, scalability to multiple antenna installations, and even VHFhi reception.

I'm currently working on my first build of j3d's gapless GH10, which seems (to me) a lot easier than the others.

As always, your mileage may vary.
Rookie
Join Date: Mar 2009
Location: San Jose, CA
Posts: 10
Signals
---
In my case I have signals from 50 plus miles away. But they are all coming from one direction. Which I believe the Hoverman is better for. Where the bow-Tie I read covers more directions. But I am trying to get some VHF signals with the Hoverman. Are my assumptions here correct. Is the bow-tie better for VHF signals?
Veteran
Join Date: Mar 2008
Location: Somewhere in Delaware on the flat side
Posts: 7,360
Quote:
Where the bow-Tie I read covers more directions.
No they both cover the same directions, heh. With the reflectorless versions, you get front and back directions on both antennas. With a reflector, the gain is higher but you only get the front direction.
Quote:
Is the bow-tie better for VHF signals?
It depends. The NAROD with NAROD reflector versions have higher VHF-HI gain than the large reflector bowtie version.
---
My builds/plans (not the latest models) are located
here
.
Join Date: Aug 2008
Location: Upstate NY
Posts: 597
The G-H antenna is easier to make for most people but is pretty much a UHF only antenna. The NARROD version is supposed to get better VHF-HI reception but then the construction complexity starts to rival a bowtie and the range of VHF-HI channels is very narrow. I'm not sure in real life conditions if it still is as good as a bowtie antenna on VHF-hi, I've heard varying reports and have never built or tried one. Nether is a great performer on VHF-hi but I know the bowtie style antenna does work ok on vhf-hi.
A 9" or larger whisker bowtie antenna with swept forward elements and a curved or angled large reflector has as narrow or narrower a beam width as a G-H in the ch's 14-50 range.
The commercial versions of the bowtie don't have as narrow of a beam because they are tuned higher and on the lower UHF channels the beam gets broader as they get out of thier optimum tuning range. Also most don't take advantage of the swept forward element design and none use a curved or angled large reflector which further reduces the beam.
The bowtie holds a slight bandwidth advantage over some G-H designs and a slight gain advantage over other G-H designs on UHF but to get that advantage they have to be built a certain way and it can be beyond some DIY'ers resources.
I ran a lot of tests last fall using a semi-controlled testing site and a bunch of different antennas, mostly home made but some commercal antennas as well. The G-H design I tested was an older version and some different advances were made since then which may have brought it up to the bowtie antennas in my fall test.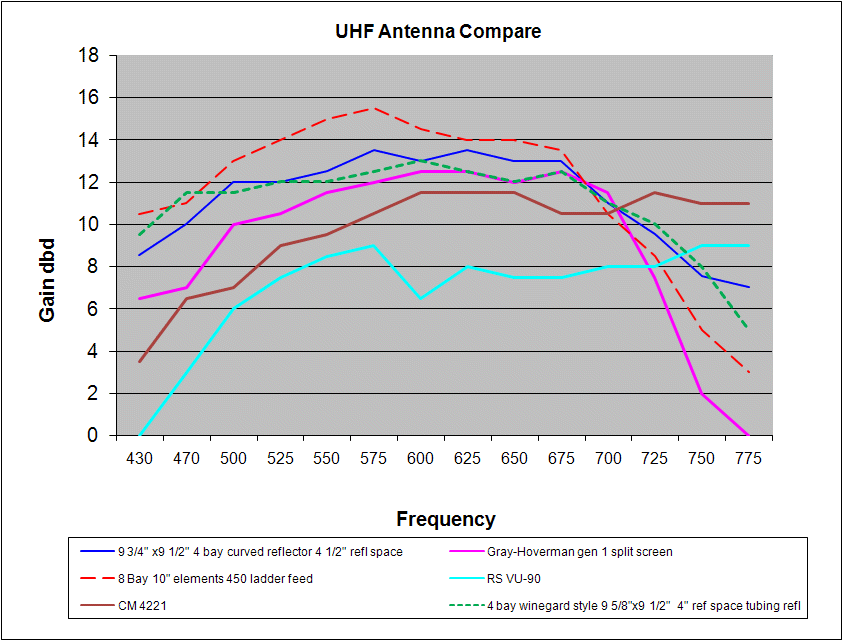 Rookie
Join Date: Feb 2009
Posts: 27
help
---
please link or tell me wear plans are for the gh you refer as a easy build what tweaks could i do to a a 4 bow tie tall with 1 inch spaceing reflector set back 5 inches what are the critical items that give the best increase in sucess what do you think of .625 space on the wires that run down middle if you adjust what what effect does it have on gain and frequency could you explain for each part of the antenna ie. whisker length as size goe up 5 1/2 being low to 10 inch being high what changes and by how much i want the best antenna for dxing and to cover the digital range my zip code is 15235
please advise and educated
hutch