Join Date: Jan 2007
Location: Halton Hills
Posts: 74
Conversion to not-quite a home theatre
---
I've had a setup in a basement room but a minor issue (mold
) forced the removal of wall coverings, carpet, drywall, etc.
I don't want to re-hash things that have been talked about elsewhere hence I'm asking for some direction as to threads I can reference (or if you want to voice an idea I'm very open to that).
I'll tell you what I've got to work with:
52" LCD
denon AV-2807
Paradigm 5.1
SVS sub
The room:
12' wide x 24' long
bare drywall
12"x12" ceiling tile (presumably glued to furring strips--not by me).
one door into room is approx 10' from end wall. Two windows one of which is on the 12' wall so the TV can't be there.
I previously had the TV on the opposite 12' wall with a viewing couch about 11' from it (basically, upon entering the room the couch was "right there").
I show a pic: the black rectangles are where the TV and couch
were
. The red rectangles are where I propose to put them
now
.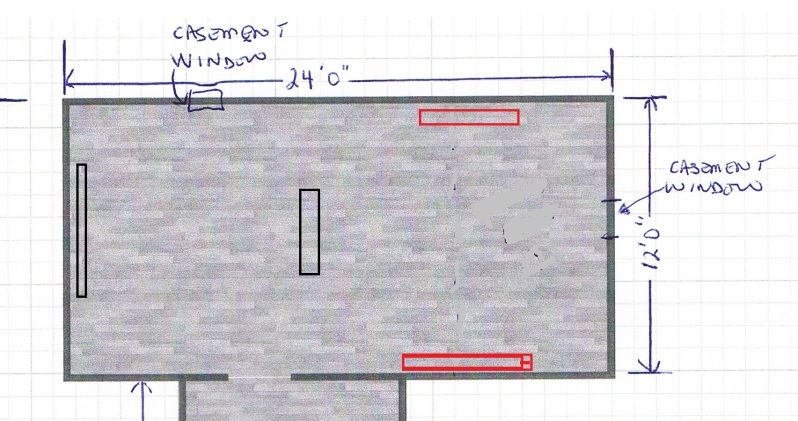 I guess two initial questions I have are:
1) Is the new location better or should I leave them where they were originally placed.
2) Should I leave the ceiling tiles in place or tear them out (this depends I guess on the final location of TV/couch though).
Only the drywall on the short window wall is being replaced (3 4x8's) which is 1/2".
---
Halton, cogeco, aquos lcd, denon 2807, oppo 981, paradigms, svs sub